This is the first dining table I have upcycled, and I really enjoyed it.
It started out as a rather sad looking, characterless rubberwood thing...
To be fair though, I don't often look under my own table to check what the kids have left there ;)
Sorry for the upside down photos, but I worked on the table this way, figuring I didn't really want to scratch up the newly-painted top if I did that first, and I wanted the whole thing to be fresh and new, so painted the whole underside of the table.
Here it is with the base coat (a taupe colour called Dulux Raw Cashew) on the legs, rails and the underside of the tabletop.
Here is the top, once I had sanded the major dings (and red felt pen marks!) out of it. I left the little dings and scratches as is, deciding that they added some character to the table that I wanted to preserve.
Here is where I got busy with the paintbrush and slack with the camera. After I coated the tabletop in two coats of Raw Cashew, I dry-brushed on some off white on the top, rails and legs. Once I was happy with that, I glazed the table using watered-down wood stain which I brushed on then wipe off with a wet cloth.
I went over the turned detail on the legs again with the glaze, using a tiny brush to get right into the grooves.
Once that was dry, I coated the table with water based poly.
And here it is...
I had the chairs reupholstered in the taupe dotty fabric, with the intention of painting the table to match the chairs and sell them as a set. But the chairs ended up selling already, and the buyer is having me paint her pedestal dining table off white to go with her 'new' chairs (reveal coming soon!)
Luckily I do have another 6 of these chairs I can have redone to go with the table...
I think they go together pretty well!
I am showing this off at
Cassie's Party
and
Kim's Party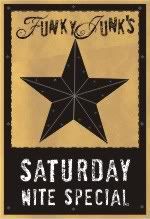 and